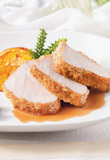 RTC Raw Roasts
What we put in is just as important as what we leave out. Our Raw Roast Products are carefully prepared by hand with the freshest meats and ingredients. Plus, they're free of binders, trans fats and allergens for the great taste you can feel good about. Fresh "off the bone" flavor with out the whole bird hassle.
Whole Bone-In Breasts
Fresh "Thanksgiving Turkey" flavor and appearance; Excellent for carving station and catering applications without the need for the whole bird.